Rawsistaz.com released one of my favorite author's book review: If You Were My Man by Francis Ray.

I became a fan of hers shortly after my Donna Hill addiction and I've already put this in my Amazon TBR que very excited by her new release.




If You Were My Man


by Francis Ray
****

St. Martin's Press,
March 2010
320 Pages, Paperback, $14.99
ISBN: 0312573693
Genre: Fiction

BUY IT
Date Reviewed: Feb 25, 2010
Rafael Dunlap is a successful hostage negotiator with the Myrtle Beach police department. He has the reputation of being a lady's man; however, he's yet to meet one he's willing to give his heart to. While on an outing at a local seafood restaurant with coworkers, he has the pleasure of meeting the owner, Natalyia Fontaine. He insists on asking her out on a date; when she turns him down he's determined to get her to change her mind. In his determination, he learns lessons in love he never knew existed.
Natalyia Fontaine is the owner of Fontaine's, a seafood restaurant that is a favorite to residents of Myrtle Beach. She inherited the restaurant years earlier after her husband passed away. Her number one priority always is and will be to ensure the restaurant's success. While making her usual nightly rounds with patrons she meets Rafael Dunlap who proceeds to ask her out. When she refuses, the last thing she expects is his persistence. She soon realizes that resisting his charm is more difficult than she first imagined and thatshe too is in for lessons in love she never knew existed.
Natalyia and Rafael's story is told with passion, elegance and grace by Ms. Ray. I enjoyed the updates on other characters from the series and the introduction of a couple new characters. I hope Ms. Ray will introduce us to another fascinating series as she concludes the Invincible Women's series with IF I WERE YOUR MAN.
Reviewed by
of The RAWSISTAZ™ Reviewers

Website: http://www.francisray.com

--------
Jaime L. Lincoln is a native of St. Louis, MO where she still resides with family. She has loved reading since she began as a child and continues to love it, as well as discussing and sharing her thoughts and views on what she's read.

-----------------------------------------------------------------------
Copyright 2001-2008 - RAWSISTAZ
™
Literary Group


In
addition to this, you know with ebook week coming along, I'm highlighting the small wonders I don't believe a lot of my fans know about.

I wrote IF I WERE YOUR WOMAN as a challenge on Donna Hill's board to her new release with the same name.

I enjoyed the story so much that I made it available as a digital download to my readers.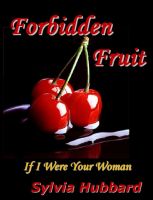 Forbidden Fruit: If I Were Your Woman
Ebook By Sylvia Hubbard
Rating: Not yet rated.
Published: Mar. 20, 2009
Category: Fiction » Literature » Erotica
Words: 1213 (approximate)
Language: English


http://www.smashwords.com/books/view/1283

Ebook Description
Somethings just shouldn't be tasted. Especially the tormented neighbor's husband across the street from Latrese.


Parental Rating:
This book contains content that may not be suitable for young readers 17 and under.
Tags
almost free, book, detroit, forbidden, love, michigan, romance, sylvia hubbard




Sylvia Hubbard
Author, Blogger and Founder of Motown Writers Network & The African American Electronic Literary Network

Author of Romance & Suspense and Internet Marketing for Writers & Business

NOW AVAILABLE: Secrets, Lies and Family Ties order your copy now
Coming Soon: Tanner's Devil www.redrosepublishing.com